This is the type of post that I have probably done many times before, I call this type of post

"Blogged, But Not Blogged"

. Long story short since Aug 2007 I have been blogging about my card mail days over at

TCC

on my

blog

over there and since July 2012 duplicating those posts in a

mail day thread

at the

TCZ

forums. There are many cards I have mentioned in detail at those sites that I have never blogged about here on what I consider to be my official trading card blog. A few times, mostly in the early days, I mentioned a card in my mail day and even scanned it (at least the front) but never blogged about it over here.

This is the story of one such card:

This card I have shown a few times online. I am surprised I never showed it here.

27 Apr 2013:

One of the first mentions of the card I'm gonna show I posted about on TCC in a post called "

Football Break plus a couple of Harper Sketches

".* I also made a small rant about it. "

Sort of tired of the card companies making all these minute variations of cards that you have to search 20 different levels of variations just to realize your card is considered the "base" version (even if they do seal it in a hinged case).

"

Strange I didn't show it on that post, but showed the Bryce Harper sketch cards.


28 Apr 2013: From TCC Forum post #81 in CaptKirk42's Collection thread.


Got some cards from a group break over at TCZ (a sort of younger cousin of TCC cause there are loads of TCC folk there). I'll only show two of the cards from the break I got about 14 more I had Rams/Ravens plus draft teams of Bears/Vikings. Products were:

2012 Panini Absolute 2011 Donruss Elite 2010 Panini Plates & Patches

I got at least 2 cards from each product, most of it was Elite base.

Here are my two fave cards. I'll let the cards do the talking both are from the

2010 Panini Plates & Patches

.
89 Danny Amendola Rams Base #d 016/499
And the Sweet one: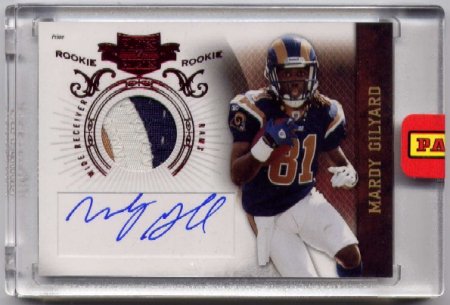 Mardy Gilyard Rams Auto (blue sharpie on cut card)
3 color GU (Gold, White w/stitching, Blue) #d 470/699
Notes
:
* The Bryce Harper sketches I mentioned in the original TCC post I blogged about
here
at
Curly W Cards
.